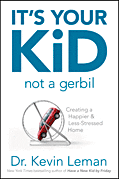 I was recently given a copy of the book It's Your Kid, Not a Gerbil by Kevin Leman to review. I am a big fan of Kevin Leman. His books have helped shape our parenting style in a way that we are in charge--not our kids (think about it; that's pretty rare among families). We don't always succeed, but we do our best, and keep working on parenting in a way that keeps us sane.

In this new book, Leman addresses the busy, stress-filled culture in which we're raising our families. He gives helpful and practical pointers for moving toward creating a happier and less-stressed home--something I think we all as parents desire. Of course, we can only move in that direction if we're willing to take the steps to do so. But if happiness and less-stress in your family is a desire, be sure to pick up a copy of It's Your Kid, Not A Gerbil by Kevin Leman.

And, the good folks at Tyndale Publishing have given me a certificate for a free copy of the book. If you're interested in receiving a free copy of the book, please leave a comment on this post. Be sure to include your email address or a way to contact you if you are the lucky winner. Winners will be chosen at random. One entry per person. The drawing will close at noon (CST) on Monday, September 26.
***UPDATE: I was informed that some people have been unable to post to comments. I am going to extend the entry deadline to noon on Wednesday, September 28. If you are unable to post a comment, please email david.wenell @ gmail.com